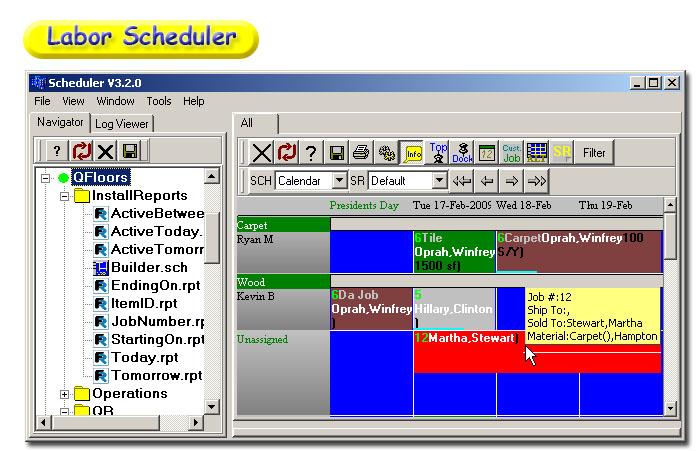 Our labor scheduling tool is the most advanced and powerful scheduler available. It can easily be configured to be used with a multitude of compatible software like Quickbooks, QFloors, CDMS, FloorPro and RFMS or in a stand-alone mode.
Powerful features like, over-scheduling rules, installer capacity and efficiency, auto-scheduler and Schedule Requests give you both control and efficiency. User configurable Reports, Schedule Boards and Editing Forms let you configure the Scheduler to fit your way of doing business and will grow with you as your business changes.

Staying in touch while away from the office is important. Calling to ask someone at the office for information can be a waste of resources and limits you to store hours and employee availability. Our AwayToWork service allows you to use a web browser or text messages (SMS) from a cellphone. Installers can retrieve schedules for the day (or future date) on a cell phone or home computer. Salespeople can lookup product information (like cost, retail price and stock quantity), request a schedule date or run reports from a job site.
Many of the web based software services force you to pay high prices for hosting just so your data is available from anywhere. If your office loses your internet connection, your entire operation is on hold until your internet connection is restored. With AwayToWork, your internet connection is only needed to connect your remote users, saving you money in hosting fees and allowing your office to run on a fast efficient, local network. Some web hosting services will even hold your data hostage in the event you don't pay your bill on time and make it hard for you to save historical information (jobs you have done in the past for example).
Imagine being able to run a report or check stock for a product while at a ballgame. The cost is $49.95/month for up to three users. Additional users are $3.99/month. Signup now and get your first month free.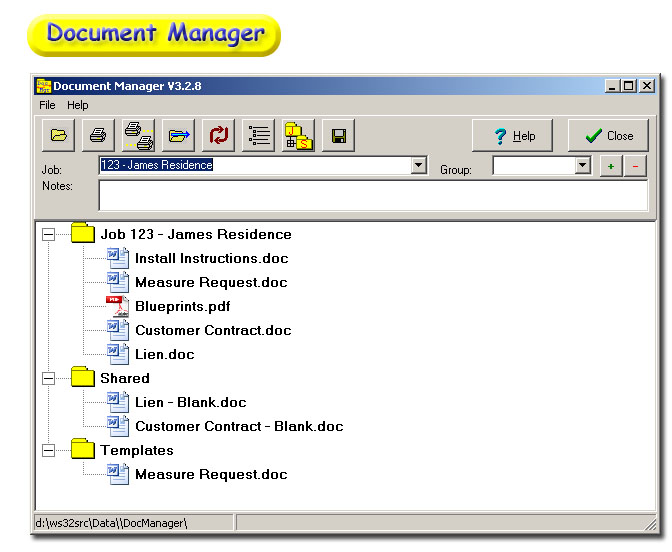 The document manager is a tool that helps you organize your electronic documents with your schedule information.
Attach a Tile Layout document to your tile schedule. Save the blueprints so they can be accessed from any schedule for that particular job.
Just a simple drag/drop from a My Computer window to the document manager puts a copy in the selected folder. Documents can be opened or printed with the appropriate program for the file type (.XLS for Excel, .DOC for word, etc.). Using groups, you can print one batch of documents for the tile phase and another for the hardwood phase.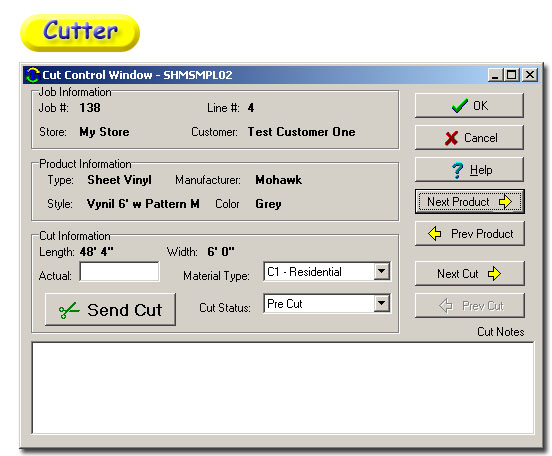 If you have a Cutting Machine (Accu-Cut or EZ-Cut), you can link it to your FSDE data and automate your cuts. No more transposing numbers or cutting the wrong size. Your computer sends the cuts to the cutting machine where the operator can make the cut and enter notes about the cuts.